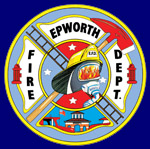 Web Counters
Website Visitors
Since
March 13, 2008

Visitors Today
Feb 15, 2019

Responses 2019
Jan
22
Feb
Mar
Apr
May
Jun
Jul
Aug
Sep
Oct
Nov
Dec
Total
22
Responses 2018 - 2015
2018
239
2017
225
2016
199
2015
170
Responses 2014 - 2000
2014
192
2013
177
2012
182
2011
191
2010
190
2009
187
2008
185
2007
198
2006
173
2005
142
2004
182
2003
183
2002
148
2001
164
2000
172
Responses 1999 - 1985
1999
176
1998
195
1997
174
1996
208
1995
163
1994
173
1993
167
1992
150
1991
140
1990
120
1989
165
1988
139
1987
130
1986
117
1985
143
Responses 1984 - 1970
1984
124
1983
115
1982
111
1981
100
1980
100
1979
77
1978
94
1977
97
1976
80
1975
64
1974
63
1973
46
1972
46
1971
50
1970
58
National Weather Service Alerts for Dubuque County, IA
Welcome to the Official Website for the Epworth Iowa Fire Department


Rural Board President Bill Brown (center) presents directors Joe McQuillen (L) and Bill Beyer (R) retirement gifts for their service to the Epworth Fire Department

Epworth Rural Board Members Honored.

Chief Thomas Berger, January 19

On January 12, 2019 at the annual appreciation President's Party, the Epworth Community Fire Department honored long time members for their service to the Rural Board. The ECFD is a 501(c)3 non profit organization that contracts with townships and smaller cities to provide fire and ambulance service to their area. At the annual meeting in November two members announced their retirements. Joe McQuillen served the board for 45 years, with many terms as President of the Board. Bill Beyer also retired after 36 years of service to the Board. They are being replaced on the board by their sons, ... (Full Story & Photos)

EFD Annual Appreciation Presidents Party

Chief Thomas Berger, January 16

On Saturday January 12th, 2019 the Epworth Community Volunteer Fire Department held it's annual appreciation Presidents Party. Active Firefighters, Honorary Members, City Council & Rural Board Members were in attendance for dinner and awards. In 2018 the members of the department responded to 239 calls for service which requires numerous volunteer hours donated by our members. We also thanked the spouses and the families of the members who also sacrifice their time with the members so they can respond to emergencies. In addition to the calls, there are also numerous hours volunteered annually ... (Full Story & Photos)



Kyle Mueller is awarded the 2018 Firefighter of the Year award for the Epworth Fire Department.

Epworth Fire members attend Grain Dust Explosion training

Firefighter/EMT-B Dan Kramer, December 18

On Monday night Dec. 17th Epworth Fire Department members attended a Grain Dust Explosion training class held by Instructor Dan Neenan from Northeast Iowa Community College. (NECAS). The training was held at Epworth Fire station.

The members learned various techniques for responding to Grain Dust fires including scene size-up, safety, and fire suppression/water level needs.
In addition to class room training, the members were also shown a simulated dust explosion using the NECAS simulator.

Thanks to Dan and NECAS for providing this training.


... (Full Story)




Epworth Fire members conduct Extrication Training

Firefighter/EMT-B Dan Kramer, October 29

On Monday Oct. 22, 2018 the Epworth Fire Department members practiced a motor vehicle extrication training scenario.
Members of the department practiced scene size up, scene safety, as well as patient extrication using various power and hand tools. Epworth Fire members try to do this training on a regular basis. Seen here are a few pictures of this training. ... (Full Story & Photos)

Epworth Fire responds to structure fire at 9578 Royal Wood Dr.

Chief Thomas Berger, September 26

On September 26, 2018 at 8:12 p.m. the Epworth Fire Department was paged by Dubuque County Dispatch to respond for a reported structure fire at 9578 Royal Wood Drive in rural Peosta. Upon arrival of the first engine at 8:16 p.m. firefighters found a garage fully involved with fire and heavy smoke extending into the residence. The occupants were alerted to the fire by smoke detectors and when they opened the garage door to investigate, they found fire in the garage area. All occupants were able to escape. Mutual aid assistance was provided by the Centralia/Peosta Fire Department, Key West Fire ... (Full Story)




ST. FLORIAN'S PRAYER
Patron Saint of Firefighters
Guide us St. Florian on our every call,
Return us home safely one and all...
Your feedback is important to us! Feel free to sign the guestbook.