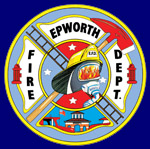 Web Counters
Website Visitors
Since
March 13, 2008

Visitors Today
Feb 18, 2018

2018 Response
Jan
12
Feb
9
Mar
Apr
May
Jun
Jul
Aug
Sep
Oct
Nov
Dec
Total
21
Responses 2017 - 2015
2017
225
2016
199
2015
170
Responses 2014 - 2000
2014
192
2013
177
2012
182
2011
191
2010
190
2009
187
2008
185
2007
198
2006
173
2005
142
2004
182
2003
183
2002
148
2001
164
2000
172
Responses 1999 - 1985
1999
176
1998
195
1997
174
1996
208
1995
163
1994
173
1993
167
1992
150
1991
140
1990
120
1989
165
1988
139
1987
130
1986
117
1985
143
Responses 1984 - 1970
1984
124
1983
115
1982
111
1981
100
1980
100
1979
77
1978
94
1977
97
1976
80
1975
64
1974
63
1973
46
1972
46
1971
50
1970
58
National Weather Service Alerts for Dubuque County, IA
Welcome to the Official Website for the Epworth Iowa Fire Department

Epworth Fire responds to house fire

Chief Thomas Berger, January 18

On Thursday, January 18, 2018 at 1:54 p.m. the Epworth Fire Department was notified by the Dubuque County 911 Center of a residential structure fire located at 23869 Old Highway Road, Epworth. Upon arrival, firefighters found a two story house with heavy smoke throughout the building and fire in the basement extending to the first floor. The house is occupied by Ken and Tammy Burds who live in the house with their four children. Mutual aid assistance was provided by the Farley Fire Department for a tanker and the Mobile Breathing Air Compressor Trailer. 18 firefighters responded and remained ... (Full Story)





Firefigher of the year Award

President's Party 2018

Lieutenant Dave Theisen, January 18

On Saturday January 13th, 2018 the Epworth Community Volunteer Fire Department held it's annual Presidents Party. Active Firefighters, Honoree & Rural Board Members were in attendance for dinner and awards.

Marty Berger & Steve Silker were given a Service Award for 40 years of service to the Fire Department. Steve is the 1st Assistant Chief and a Paramedic for the department, Marty is Captain and a EMT for the department.

Dale Synder was awarded Fire Fighter of the Year. Dale has been a member for almost 12 years and is a Firefighter.

Dennis Beitzel & Mike Heiberger were given Retirement ... (Full Story & Photos)

Fire destroys Chicken Coop

Chief Thomas Berger, December 02

On Saturday, December 2nd, 2017 at 3:36 p.m. the Epworth Fire Department was notified by the Dubuque County 911 Center of a fully involved chicken coop fire at 6587 Dutch Lane Road, rural Epworth. Upon arrival, firefighters found a small farm building destroyed by fire. The farm is owned by Madeline Connolly. 12 Firefighters responded and remained on the scene for an hour. The building is considered a total loss. Damage is estimated at $2,000. The Epworth Fire Department was also assisted at the scene by the Dubuque County Sheriff's Office. The cause of the fire was determined to have started ... (Full Story)




Epworth Fire responds to Barn Fire on Seymour Lane

Chief Thomas Berger, November 30

On Wednesday, November 29, 2017 at 07:32 p.m. the Epworth Fire Department was notified by the Dubuque County 911 Center of a fully involved barn fire at 23473 Seymour Lane, rural Epworth. Upon arrival, firefighters found a 60x80 farm building fully involved. The barn had farm machinery and 44 corn stock bales inside. The farm is owned by Jim and Lisa Seymour. Mutual aid assistance was provided by the Centralia/Peosta Fire Department, Holy Cross and Farley Fire Department tankers. 22 Firefighters responded and remained on the scene for over four hours. The building is considered a total loss. ... (Full Story)




In Memory of retired Captain Vince Kramer

Chief Thomas Berger, November 05

The Epworth Fire Department offers condolences to the family of retired Captain Vince Kramer who passed away Saturday, November 4th, 2017 at the age of 86. Vince served on the Epworth Fire Department for 24 years from 1960-1984. Vince was elected President of the Epworth Community Volunteer Firemen from 1970-1972 and was among the first firefighters in Epworth to be certified as Firefighter 1. Vince was the first recipient of the Firefighter of the Year award when it was initiated in 1982. He was a perfect example of what it takes to be a great volunteer firefighter and why the department ... (Full Story & Photos)



Captain Vince Kramer received the first Epworth Fire Department Firefighter of the Year award in 1982. Shown with Senator Joe Welsh, Vince and Fire Chief Dan McDermott.

ST. FLORIAN'S PRAYER
Patron Saint of Firefighters
Guide us St. Florian on our every call,
Return us home safely one and all...
Your feedback is important to us! Feel free to sign the guestbook.