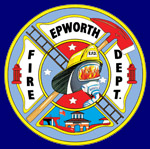 Web Counters
Website Visitors
Since
March 13, 2008

Visitors Today
Sep 30, 2023

Responses 2023
Jan
30
Feb
19
Mar
21
Apr
23
May
24
June
28
July
Aug
Sept
Oct
Nov
Dec
0
145
Responses 2022 - 2015
2022
300
2021
272
2020
286
2019
259
2018
239
2017
225
2016
199
2015
170
Responses 2014 - 2000
2014
192
2013
177
2012
182
2011
191
2010
190
2009
187
2008
185
2007
198
2006
173
2005
142
2004
182
2003
183
2002
148
2001
164
2000
172
Responses 1999 - 1985
1999
176
1998
195
1997
174
1996
208
1995
163
1994
173
1993
167
1992
150
1991
140
1990
120
1989
165
1988
139
1987
130
1986
117
1985
143
Responses 1984 - 1970
1984
124
1983
115
1982
111
1981
100
1980
100
1979
77
1978
94
1977
97
1976
80
1975
64
1974
63
1973
46
1972
46
1971
50
1970
58
Thank You for Supporting the Dance!
By Chief Thomas Berger
May 31, 2022
The Epworth Community Volunteer Firemen, Inc. would like to thank everyone for making our annual dance fundraiser a success. We thank you for the donations received through our mail campaign and thank everyone who attended the event. Jack Silker's crew did an outstanding job with the grilling and served many folks. We thank the many people who worked with Jack preparing the food as well as the ladies who served the crowd. Stef N Daniel did an excellent job providing the entertainment for dancing. The proceeds from the dance will be used for the operational costs of the ambulance service and other EMS related projects. Shout out to Stoney and Stan for handling the ticket sales and anyone else who contributed and pitched in to work the annual event. To the many local businesses that donated goods and equipment - we could not have held the event without your support.
We thank you one and all for your financial contributions and support of your local volunteer paramedic ambulance service. See you all next year!