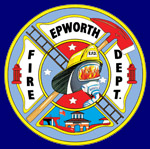 Web Counters
Website Visitors
Since
March 13, 2008

Visitors Today
Mar 23, 2023

Responses 2023
Jan
30
Feb
19
Mar
Apr
May
June
July
Aug
Sept
Oct
Nov
Dec
0
49
Responses 2022 - 2015
2022
300
2021
272
2020
286
2019
259
2018
239
2017
225
2016
199
2015
170
Responses 2014 - 2000
2014
192
2013
177
2012
182
2011
191
2010
190
2009
187
2008
185
2007
198
2006
173
2005
142
2004
182
2003
183
2002
148
2001
164
2000
172
Responses 1999 - 1985
1999
176
1998
195
1997
174
1996
208
1995
163
1994
173
1993
167
1992
150
1991
140
1990
120
1989
165
1988
139
1987
130
1986
117
1985
143
Responses 1984 - 1970
1984
124
1983
115
1982
111
1981
100
1980
100
1979
77
1978
94
1977
97
1976
80
1975
64
1974
63
1973
46
1972
46
1971
50
1970
58
The Epworth Fire and EMS Dance is back!
By Firefighter/EMT Kyle Gansen
May 17, 2022
The Epworth Community Volunteer Fireman, Inc. will hold their annual dance fundraiser Friday, May 27th, 2022 at the Epworth Fire Station. After two years of cancelling the actual event due to the ongoing pandemic, we are excited to welcome back the social aspect of the event. The dance is the annual fund raiser that supplements the operation of the advanced life support ambulance service continue to rise and we rely on this dance, donations and memorials, as well as insurance payments from user fees to cover the cost of the services. The dance will feature the local duo "The Stef N Daniel Band". The Friday evening community social has been successful as we hope to catch people after work with a happy hour starting at 5:30pm and the band playing from 7p-11p as a way to kickoff the Memorial Day weekend. Jack Silker and crew will have the grill hot and will be serving fresh grilled sandwiches from Silker's Store. A shuttle will be available in the Epworth area to pick up and return patrons. You can call the station at 876-3321 for a shuttle ride. We hope that you will be able to join us that evening, and we thanks you in advance for your support or our volunteer ambulance service.