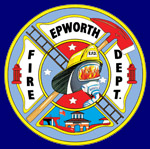 Web Counters
Website Visitors
Since
March 13, 2008

Visitors Today
Sep 25, 2020

Responses 2019
Jan
23
Feb
17
Mar
26
Apr
14
May
26
Jun
36
Jul
21
Aug
26
Sep
24
Oct
16
Nov
Dec
Total
229
Responses 2018 - 2015
2018
239
2017
225
2016
199
2015
170
Responses 2014 - 2000
2014
192
2013
177
2012
182
2011
191
2010
190
2009
187
2008
185
2007
198
2006
173
2005
142
2004
182
2003
183
2002
148
2001
164
2000
172
Responses 1999 - 1985
1999
176
1998
195
1997
174
1996
208
1995
163
1994
173
1993
167
1992
150
1991
140
1990
120
1989
165
1988
139
1987
130
1986
117
1985
143
Responses 1984 - 1970
1984
124
1983
115
1982
111
1981
100
1980
100
1979
77
1978
94
1977
97
1976
80
1975
64
1974
63
1973
46
1972
46
1971
50
1970
58
Rest in Peace Fr. Bobby Jones
By Chief Thomas Berger
May 17, 2019
Father Robert Jones, SVD passed away on Monday, May 13th at Techny, IL. Father Bob became involved with the department while a member of the Divine Word College Seminary. Divine Word Seminary has been an integral part of the Epworth Community and remains very supportive of our volunteer fire department. Allowing Father Bob to volunteer was just another way Divine Word gave back to its community. Father Bob was extraordinary because he became an active member of our department, trained to become a Paramedic, and will be forever remembered as our 'Firefighting Father'. Just as a church has a clergy, Father Bobby always made our firefighting family his clergy for his own little church. Father Bob served actively from 1983-1991 and was in the first Paramedic class the Epworth Fire Department participated in. He also served as President of the Epworth Community Volunteer Firemen, INC - the nonprofit corporation of the fire department members. In 2009, Father Bob returned to Epworth to bless and celebrate our opening of the new station on Jacoby Drive. It was very important to all us to have him come back and celebrate our moving into the new station, as well as to provide a blessing over our new members, their families, and our wonderful new station. Father Bobby not only served the community within the parameters of conventional firefighting and paramedic response, he would exert the extra time to connect and console many community members in order to help them cope with the stress of severe fires, complicated medical calls or tragic accidents. We extend sincere condolences to his sister and brothers as well as all of our friends at Divine Word College.



Fr. Bobby conducts a blessing of the new fire station on March 15, 2009.




Fr. Bobby conducts a blessing of the new fire station on March 15, 2009.