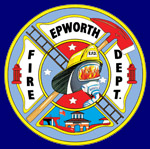 Web Counters
Website Visitors
Since
March 13, 2008

Visitors Today
Sep 25, 2020

Responses 2019
Jan
23
Feb
17
Mar
26
Apr
14
May
26
Jun
36
Jul
21
Aug
26
Sep
24
Oct
16
Nov
Dec
Total
229
Responses 2018 - 2015
2018
239
2017
225
2016
199
2015
170
Responses 2014 - 2000
2014
192
2013
177
2012
182
2011
191
2010
190
2009
187
2008
185
2007
198
2006
173
2005
142
2004
182
2003
183
2002
148
2001
164
2000
172
Responses 1999 - 1985
1999
176
1998
195
1997
174
1996
208
1995
163
1994
173
1993
167
1992
150
1991
140
1990
120
1989
165
1988
139
1987
130
1986
117
1985
143
Responses 1984 - 1970
1984
124
1983
115
1982
111
1981
100
1980
100
1979
77
1978
94
1977
97
1976
80
1975
64
1974
63
1973
46
1972
46
1971
50
1970
58
Epworth Unit 702 to be replaced
By Firefighter/EMT-B Dan Kramer
March 5, 2019
Epworth Fire members are excited to report the new chassis and pump have arrived and work is soon starting on Vehicle 702.
This is a mini pumper and first responding EMS unit that operates out of Vernon Township area also known as our Station 2 located on Royal Wood Drive off of North Cascade Road.
This new vehicle is a 2019 Ford F550 which will replace an existing Ford 2009 F550 Simon vehicle. The new unit will feature a 1500 gallon per minute pump and all of the essential firefighting equipment and first response EMS equipment. The present vehicle was put in to service in May 2010 and this new replacement unit is expected to be completed later this spring.