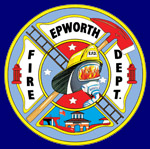 Web Counters
Website Visitors
Since
March 13, 2008

Visitors Today
Sep 30, 2023

Responses 2023
Jan
30
Feb
19
Mar
21
Apr
23
May
24
June
28
July
Aug
Sept
Oct
Nov
Dec
0
145
Responses 2022 - 2015
2022
300
2021
272
2020
286
2019
259
2018
239
2017
225
2016
199
2015
170
Responses 2014 - 2000
2014
192
2013
177
2012
182
2011
191
2010
190
2009
187
2008
185
2007
198
2006
173
2005
142
2004
182
2003
183
2002
148
2001
164
2000
172
Responses 1999 - 1985
1999
176
1998
195
1997
174
1996
208
1995
163
1994
173
1993
167
1992
150
1991
140
1990
120
1989
165
1988
139
1987
130
1986
117
1985
143
Responses 1984 - 1970
1984
124
1983
115
1982
111
1981
100
1980
100
1979
77
1978
94
1977
97
1976
80
1975
64
1974
63
1973
46
1972
46
1971
50
1970
58
Guestbook
Welcome to the Epworth Fire Department Guestbook. Your feedback is important to us. Feel free to leave your comments.
| | |
| --- | --- |
| Page of 3 [ Back | Next ] | Records 31 - 60 of 77 |
Signed on January 09, 2011 at 8:36 AM
Guest Name:
John link
Location:
21706 lakeshore dr Bernard Ia 52032
Comments:

Good job gang thinking of you's always
Signed on January 03, 2011 at 10:03 PM
Guest Name:
Joel Goulet
Web Address:
www.joelgoulet.com
Comments:

Thank you for being firefighters and keeping people safe. I applaud your service to your community. Thank you for all that you do. I'd like to let you know about some special Firefighters tribute pages on my website. I set them up to honor firefighters everywhere. If you get a chance, please check them out. Stay safe and have a great day.
Signed on December 05, 2010 at 3:57 PM
Guest Name:
Kelly Hering
Comments:

I was trying to find an e-mail address but I suppose this will have to do! I hope this gets to Larry Wilgenbusch, Steve Silker, and Kelly Rosenow. I was one of the girls that stayed at the fire station early Saturday morning on December 4th after sliding into the ditch on Highway 20. I would like to express my overwhelming gratitude for all of you who helped to make our night less stressful and more comfortable. I cannot thank you enough for all that you provided and your welcoming attitude was greatly appreciate. You went above and beyond your call of duty as fire fighters. Thank you again! God bless you!
Signed on October 16, 2010 at 12:41 AM
Guest Name:
michael loucks
Rank/Title:
firefighter
Web Address:
efd74.com
Location:
Elizabethtown, PA
Comments:

I saw here at work " three mile island power plant" we bought your old rescue 762. This unit will greatly inhance the fire protection capibilities here on site. Just wanted to stop and say hi. Stay safe bothers
Signed on August 06, 2010 at 11:10 PM
Guest Name:
Brad Merchel
Rank/Title:
Firefighter
Web Address:
www.cnegfx.com
Location:
Washington, Iowa
Comments:

Great site guys. Just stopping by to say hi! I am a firefighter myself for 16 yrs. I also own a graphics business. I do vinyl decals, can koozies, etc. I have tons of firefighter graphics that i ship all over the country.

Keep up the good work guys.
-Brad
Signed on June 23, 2010 at 10:12 PM
Guest Name:
Vicki (Ross) Braak
Comments:

Thanks for remembering Dad in the website. You guys are the best, both off and on firehouse duty. Thanks for everything you do.
Signed on December 17, 2009 at 9:36 PM
Guest Name:
joe young
Comments:

thanks for coming to the call at my house on nov 10th. i felt sorry for the guys who showed up it was no light task for them. you guys are the best dept in the world and i will never stop bragging about how good you are to others. thanks again
Signed on September 20, 2009 at 2:28 PM
Guest Name:
Dave Bonnie & Matt Coyle
Comments:

What a wonderful job the EMT'S did when our son Matt was hurt at the football game on 9-18-09. Everything turned out well, no serious injuries. We knew Matt was in good hands, which was a great relief to know they were looking after him. Job well done and thank you all for being there for the help and support.
Signed on June 16, 2009 at 3:54 AM
Guest Name:
Jeff and Linda Peil
Comments:

We are the home owners of the mobile home that was lost in a fire on June 5th. We just wanted to thank each and every one of you who helped with the fire. Your hard work is greatly appreciated. I hope you know how much you mean to the community. Also thanks to all of the other fire departments that assisted with the fire.

Jeff and Linda Peil
Signed on June 03, 2009 at 1:25 PM
Guest Name:
Brandon
Rank/Title:
DJ
Web Address:
www.mobilemoosicproductions.com
Location:
Wisconsin
Comments:

I was looking for an email address but was unable to find one on here. I would like to send some information on the DJ services for the fire department picnick.

Thanks,
Mobile Moosic Productions
Signed on May 05, 2009 at 8:48 AM
Guest Name:
Ron & Marian Blume
Comments:

Just wanted to congratulate all the deserving people once again on the outstanding job done with the new fire station. It is awesome. The open house was wonderful and we had a great tour.Thanks to all the the firemen who answered all of our questions. We really learned a lot that morning.
God bless you all and keep you safe.
Signed on April 24, 2009 at 6:26 PM
Guest Name:
Bonnie Hancock
Comments:

One more time I am so grateful for a group of individuals that get out of their bed at all hours of the night (even if sleep-deprived) and expertly, efficiently, compassionately provide outstanding medical care.
Thank you to - you know who you are.
Signed on March 15, 2009 at 9:14 AM
Guest Name:
dakota kramer
Location:
Epworth
Comments:

the new station is awsome
Signed on February 23, 2009 at 11:29 AM
Guest Name:
Captain Thomas F Mason
Rank/Title:
Captain
Location:
Richmond Hill, Ga
Comments:

Dear Fire Chief Thomas I Berger,

Hello, My name is Captain Thomas (Frankie) Mason on the Savannah Fire Emergency Services. What we are doing is expanding the patches on our "Board of Honor". If your Department would like to be a part of it, we will be a Honor to do it. If not we understand, thanks and have a good day. And we have a picture for you to see, and have a great day and be safe.

P.S. If you would like a patch, please let us know.

Captain Thomas F Mason
c/o Savannah Fire Emergency Services

156 Rountree Drive

Richmond Hill, Ga 31324


"343 Never Forget"

Nice site to look at

Confidentiality Notice
This message is being sent by or on behalf of the sender. It is intended exclusively for the individual or entity to which it is addressed. This communication may contain information that is proprietary, privileged or confidential or otherwise legally exempt from disclosure. If you are not the named addressee, you are not authorized to read, print, retain, copy or disseminate this message or any part of it. If you have received this message in error, please notify the sender immediately by e-mail and delete and/or destroy all copies of the message.
Signed on January 25, 2009 at 4:06 PM
Guest Name:
Jack
Rank/Title:
Epworth Resident
Comments:

I love this epworth fire department, and cannot wait for the new fire station to be complete!
Signed on January 04, 2009 at 4:37 PM
Guest Name:
Pat Pierce
Comments:

I am so proud to live in a town of committed men and women, who are willing to put the safety of it's citizens before themselves and their families 24/7. I, for one, owe this group (past & present) my sincere thanks for the many times you have come to my familiy's aid........sometimes putting out fires that got out of control......but mostly for the speedy, expert, professional and loving care given many times when an ambulance call was necessary. We are so fortunate to have each and everyone of you. May the Lord cover you in his love and care as you continue your selfless service to this area of Dubuque County.
Signed on January 03, 2009 at 10:33 AM
Guest Name:
Gary & Bonnie Hancock
Location:
Epworth
Comments:

Great web site and so informative.
The fire station is well deserved to serve a group of dedicated individuals that get out of warm beds & interrupt holiday gatherings to so professionally take care of our community.
Thank you for all you do for all of us and enjoy a facility that better fits your needs!
Signed on December 17, 2008 at 8:31 AM
Guest Name:
Austin DeFlieger
Comments:

nice fire Station
Signed on December 08, 2008 at 10:56 PM
Guest Name:
Stan and Tony Hoefer
Comments:

Website is outstanding! All kinds of information, and really neat pictures. Keep up the good work!
Signed on December 08, 2008 at 3:14 PM
Guest Name:
Greg Featherston
Comments:

Very impresive to witness the professionalism that was shown on the Country Inn fire. Great to know our town is so well protected.
Signed on December 08, 2008 at 2:08 PM
Guest Name:
brandon bradley (dj)
Rank/Title:
dj
Comments:

thank you very much for your help at the Kountry inn fire! you guys were very cold and worked through it!

THANK YOU!

MARTY AND BRANDON BRADLEY
Signed on December 07, 2008 at 10:09 AM
Guest Name:
John & Kim Link
Location:
Bernard,Ia
Comments:

looks awesome guys keep up the good work
Signed on October 20, 2008 at 11:42 PM
Guest Name:
Robert Moore
Rank/Title:
Chief; Hawley Rural Volunteer Fire Dept
Location:
Rt-1 Box-57 Nash,Okla 73761
Comments:

Our dept purchased the '96 IH welch Pumper truck. The accomodation and fairness that was given to our dept. by the Epworth dept has not been matched siince. This apparatus has performed far greater than we expected. We have not had a mechanical failure of any kind. Our board of directors, the county commissioners, and the citizens of our community; and the fire dept's. of our surrounding mutual aid districts cannot believe that this is not a new apparatus. Many many many thanks to the "outstanding" respect that Chief Tom Berger and the members of the Epworth Fire Dept showed us during and after this transaction.
Robert E. Moore Chief #601
Hawley Rural Volunteer Dept.
Signed on October 11, 2008 at 11:07 PM
Guest Name:
Rob Kight
Rank/Title:
Retired Firefighter/Paramedic/HazMat Technician (Specialist)
Location:
Zion, IL
Comments:

I am originally from the Galena/Dubuque area. Having left the area, I'm always looking at the areas that I had left behind. I'm very happy to see such support from the community and dedication of the department itself.

Be safe!
Rob Kight
Zion Fire Rescue Department (ret.)
Signed on October 07, 2008 at 11:40 PM
Guest Name:
Kevin Frommelt
Comments:

Nice job on the web site, Im excited to see the new Station when it's completed.
Signed on April 27, 2008 at 11:48 AM
Guest Name:
Darrel Crawford
Rank/Title:
Township Trustee
Location:
Frankville Fire Department
Comments:

Very nice site you should be proud of your accomplishments and your staff who have worked so hard to show off your town and department. Good Job!
Signed on April 03, 2008 at 8:26 PM
Guest Name:
Calvin Hancock
Comments:

Nice job! Keep up the good work!
Signed on April 02, 2008 at 2:42 PM
Guest Name:
Adrian Doleman
Rank/Title:
Assistant Chief
Web Address:
www.lfrd.org
Location:
LaGrange, KY
Comments:

Great Website Epworth Fire Department! Keep up the good work and stay safe.
Signed on April 01, 2008 at 8:26 AM
Guest Name:
jim weitz
Location:
dubuque
Comments:

good job sold me on the new station
| | |
| --- | --- |
| Page of 3 [ Back | Next ] | Records 31 - 60 of 77 |