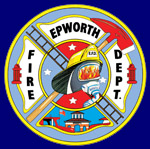 Web Counters
Website Visitors
Since
March 13, 2008

Visitors Today
May 26, 2019

Responses 2019
Jan
23
Feb
17
Mar
26
Apr
14
May
15
Jun
Jul
Aug
Sep
Oct
Nov
Dec
Total
95
Responses 2018 - 2015
2018
239
2017
225
2016
199
2015
170
Responses 2014 - 2000
2014
192
2013
177
2012
182
2011
191
2010
190
2009
187
2008
185
2007
198
2006
173
2005
142
2004
182
2003
183
2002
148
2001
164
2000
172
Responses 1999 - 1985
1999
176
1998
195
1997
174
1996
208
1995
163
1994
173
1993
167
1992
150
1991
140
1990
120
1989
165
1988
139
1987
130
1986
117
1985
143
Responses 1984 - 1970
1984
124
1983
115
1982
111
1981
100
1980
100
1979
77
1978
94
1977
97
1976
80
1975
64
1974
63
1973
46
1972
46
1971
50
1970
58
Epworth Fire responds to structure fire at 9578 Royal Wood Dr.
By Chief Thomas Berger
September 26, 2018

On September 26, 2018 at 8:12 p.m. the Epworth Fire Department was paged by Dubuque County Dispatch to respond for a reported structure fire at 9578 Royal Wood Drive in rural Peosta. Upon arrival of the first engine at 8:16 p.m. firefighters found a garage fully involved with fire and heavy smoke extending into the residence. The occupants were alerted to the fire by smoke detectors and when they opened the garage door to investigate, they found fire in the garage area. All occupants were able to escape. Mutual aid assistance was provided by the Centralia/Peosta Fire Department, Key West Fire Department and the Asbury Fire Department tankers. The Farley Fire Department also responded with the Dubuque County Fire Association Breathing Air Trailer. Firefighters remained on the scene for over three hours checking for hot spots. The garage is considered a total loss and there is extensive smoke and water damage to the house. Damage is estimated $150,000. The Epworth Fire Department was also assisted at the scene by the Dubuque County Sheriff's Office, Peosta Police Department, Black Hills Energy and Maquoketa Valley REC. The fire originated in the garage area is considered accidental.

Units:
Engines 701, 702, 703, Tanker 735, Command 774 and 777, Ambulance 752
Mutual Aid:
Centralia-Peosta Tanker, Asbury Fire Department Tanker, Key West Fire Department Tanker and Farley Fire Department with the Breathing Air Trailer.