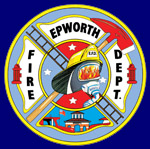 Web Counters
Website Visitors
Since
March 13, 2008

Visitors Today
Jan 18, 2019

Responses 2019
Jan
2
Feb
Mar
Apr
May
Jun
Jul
Aug
Sep
Oct
Nov
Dec
Total
2
Responses 2018 - 2015
2018
239
2017
225
2016
199
2015
170
Responses 2014 - 2000
2014
192
2013
177
2012
182
2011
191
2010
190
2009
187
2008
185
2007
198
2006
173
2005
142
2004
182
2003
183
2002
148
2001
164
2000
172
Responses 1999 - 1985
1999
176
1998
195
1997
174
1996
208
1995
163
1994
173
1993
167
1992
150
1991
140
1990
120
1989
165
1988
139
1987
130
1986
117
1985
143
Responses 1984 - 1970
1984
124
1983
115
1982
111
1981
100
1980
100
1979
77
1978
94
1977
97
1976
80
1975
64
1974
63
1973
46
1972
46
1971
50
1970
58
In Memory of retired Captain Vince Kramer
By Chief Thomas Berger
November 5, 2017
The Epworth Fire Department offers condolences to the family of retired Captain Vince Kramer who passed away Saturday, November 4th, 2017 at the age of 86. Vince served on the Epworth Fire Department for 24 years from 1960-1984. Vince was elected President of the Epworth Community Volunteer Firemen from 1970-1972 and was among the first firefighters in Epworth to be certified as Firefighter 1. Vince was the first recipient of the Firefighter of the Year award when it was initiated in 1982. He was a perfect example of what it takes to be a great volunteer firefighter and why the department started the award. He was a dedicated volunteer and gave freely of his time and talent volunteering for many years for not just the fire department, but many organizations in the community. Thank you Vince for your service and may you rest in peace.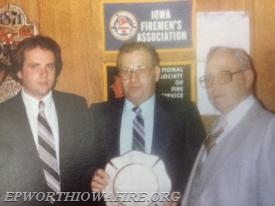 Captain Vince Kramer received the first Epworth Fire Department Firefighter of the Year award in 1982. Shown with Senator Joe Welsh, Vince and Fire Chief Dan McDermott.
Kathy (Kramer) Boffeli
November 14, 2017 at 5:00 PM
Thanks to the Epworth fire department for your amazing outpouring of support for our family the past week ! You are a top notch group of individuals with utmost respect for our dad! Thanks for all your service to the community !
God Bless !